The circular economy is increasingly recognised by the financial sector as a value creation opportunity that meets climate and other global challenges. In particular, in addition to helping to comply with sustainability policies, circular economy strategies can reduce investment risk and drive higher returns for investors and financial institutions, according to a white paper published by the Ellen MacArthur Foundation in collaboration with Bocconi University and Intesa Sanpaolo.
Specifically, the Bocconi University analysis, conducted with 222 listed European companies from 14 sectors of the economy, shows that "the higher a company's circularity, the lower its risk of debt default and the higher the risk-adjusted return on its equity".
The verification of these impacts, based on objective analyses, is leading to the circular economy becoming one of the strategic criteria when making financing and investment decisions, both by banking groups and institutional investors -investment funds and pension plans-, insurance companies, venture capital firms and business angels.
The paper 'The circular economy as a risk reduction strategy and driver of higher risk-adjusted returns' reveals how circular economy strategies help to "decouple economic growth from resource consumption, diversify business models and enable companies to better anticipate stricter regulations and changing customer preferences".
In addition, the integration of circular economy principles also reduces exposure to supply chain disruptions and resource price volatility.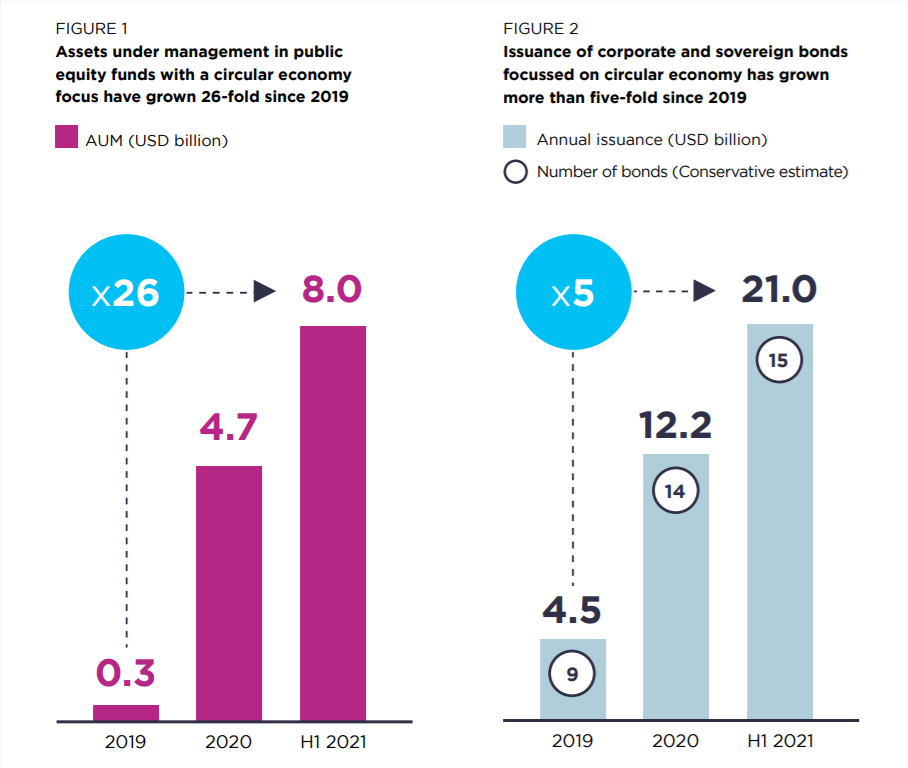 These results have translated into a growing flow of capital into companies and projects focused on the circular economy. This is evidenced by the fact that the number of investment funds taking these strategies into account has multiplied exponentially, from two to thirteen in three years – including funds from leading institutions such as BlackRock, BNP Paribas, Credit Suisse and Goldman Sachs. Even more significantly, assets under management now exceed $8bn, 26 times more than in December 2019.
There has also been a big jump in the debt market, with the issuance of more than 35 corporate bonds and sovereign bonds to finance activities or companies working in the circular economy since 2019.
Strategic priority
In this context, the white paper recommends that financial and investment institutions move forward along four lines:
1. Establish the circular economy as a strategic priority.
2. Innovate in financial products and adopt proactive credit policies and lending strategies, applying circular economy criteria.
3. Actively support the development of the circular economy market, with financing and investment flows.
4. Explore the integration of the circular economy into risk models.